If there's one beauty mantra we live by, it's there's no such thing as too much highlighter. For real, we don't limit highlighter to our cheekbones, we use it everywhere from our lips to our eyes to our body. It's our not-so-secret weapon, and when applied strategically, highlighter can completely transform your face all while amping up your glow game too.
Here are our pro highlighter tips and hacks:
Layer different highlighter tones and textures
Before we get into the pro tips, we're going to cover the basics: tones and textures. There are three common textures; cream, powder, and liquid highlighters, all of which provide a slightly different finish. Cream and liquid highlighters often have a softer, more natural finish compared to a powder, which tends to be more dramatic. For seriously poppin' highlighter, use a cream or liquid highlighter first, then layer it up with a highlighter powder on top, using a fan brush.
Mix highlighter into your foundation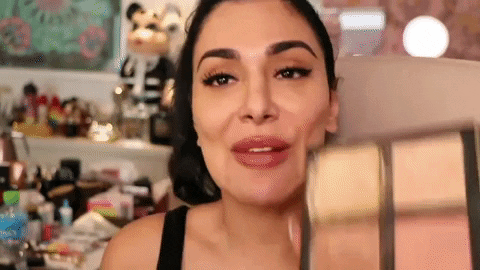 To take your foundation from a matte to dewy finish, mix in a little cream or liquid highlighter – it leaves your skin looking so radiant, we're obsessed! On a mixing palette – or on the back of your hand – add a few drops of liquid highlighter or cream, then blend it in with your foundation. Once it's blended completely, apply your foundation as usual.
Use highlighter to make your eyes look bigger
To instantly make your eye look bigger and more awake, apply a bright highlighter powder onto the inner corners of your eyes to open them up. You can also add a little on the very center of the lid to make your eyes pop. Finally, apply highlighter to your brow bone, directly under the tail end of your brows to create the illusion of a lifted brow.
Use highlighter on your Cupid's bow
By adding a little shimmer to your Cupid's bow (the top center of your lips) you'll create a subtle lift and make them appear fuller. We love to use a champagne-toned highlighter and apply it with our fingers or a small brush along the Cupid's bow. You can also add a little to the center of your lower lip to make it appear fuller.
Use highlighter all over your body
When we said we don't limit ourselves, we weren't exaggerating. We apply highlighter all over our body! On a daily basis, we dust a little on our shoulders and décolletage to achieve that sun-kissed glow. But for full glam, we sometimes mix a small amount of liquid highlighter or powder into our body lotion. We're so obsessed with this hack that we created the ultimate, all-over body highlighter, our Huda Beauty N.Y.M.P.H., $49, it creates an insane glow that blurs imperfections and adds a stunning, sun-kissed tint to the skin, and it comes in three shades.
Source: hudabeauty.com