If there's one product we genuinely could not live without; it's concealer. It does it all, constantly working overtime to help us look more awake, snatched, and sculpted. Even on those no-makeup makeup days, we use it to conceal the odd pimple or undereye bag #sorrynotsorry. To help you make the most of your concealer, we carefully curated a list of hacks that will take your concealer game to the next level. You can thank us later…
Find the right shade
Should you go one shade lighter, the same, in the middle? The list of questions about concealer shades goes on and on, but leave it to the pros to help you find your perfect fit. "If you want your concealer to blend in with your foundation for a natural look, I recommend matching the concealer with your foundation," says glam master to stars Shay Mitchell and Khloe Kardashian, Ash K Holm. "And if you want to use your concealer to highlight, I like to go one to two shades lighter than your foundation shade – highlighting will lift the face and reflect light," she adds.
We always opt for a lighter shade for under eyes, but for concealing pimples, a match for your foundation is ideal.
Find the right coverage for you
Coverage is another factor you need to get right. If you've ever been confused about the coverage you want or need, don't worry, as celeb makeup artist Kira Nasrat clarified the difference for us. "Creamy concealers are going to give you a bit more coverage while liquid can give you lighter coverage," she explains. "I tend to use the liquid formula to even out a tone or slightly conceal and I like creams for more heavy-duty concealing."
For pimples and dark circles we always opt for full coverage, but if you just want to brighten or even out skin tone slightly, a lighter coverage concealer will do.
Know what order to apply concealer 
Applying your makeup in the right order will majorly influence the final look. Begin by prepping your skin with a primer to create a clean base, then if you use a color corrector now is the time! Follow a color corrector with your foundation, then your concealer, and finally finish with powder. If you apply your concealer before your foundation, all of that brightening and sculpting will be worked over. It's also important to always apply powders after liquid products, as this will help them set and stay in place, preventing your foundation from moving or going patchy throughout the day.
Conceal your under eyes  
You'll probably have seen concealer being applied in a triangle shape under the eyes all over Instagram, which is correct, but we like to add our own Huda Beauty twist. Instead of just applying under the eye, drag your concealer up towards the tail end of the brow, which will lift and sculpt your eyes. Don't forget to blend, blend, blend, so it melts into your foundation. Our weapon of choice is always a damp makeup sponge.
Use concealer to fake a fuller pout
Contouring your lips is the easiest way to fake a fuller pout and it all starts with a full coverage concealer. Begin by applying your concealer all over your lips, covering the lip line. This will help create a blank canvas for you to play with so that you can easily determine where your new lip line will be.
Use concealer to contour your nose
If you want to make your nose look slimmer, you can apply a concealer that's roughly two shades lighter than your natural skin tone on either side of your nose. By highlighting this area, it'll make your nose look more slender. To heighten this contrast, set it with a bright setting powder.
Use the right tools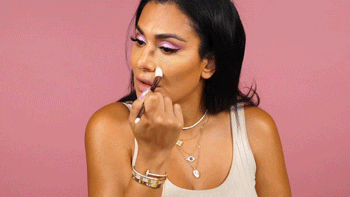 Finding the right tool to apply your concealer depends on what level of coverage you're looking for. If you're looking for light coverage, apply it the skin and blend it out with a damp beauty blender using a light tapping motion. For a little more coverage, use a concealer brush and a stippling motion (where you gently press the product into the skin), then use a dry beauty blender to lightly buff out the corners.
Use concealer instead of foundation
If you're running low on foundation or are looking for a full-coverage finish, mix a little foundation with concealer for a full coverage finish. For a lighter finish, mix your concealer with a drop of moisturizer.