From balayage, to rainbow shades, to ombre, we *love* experimenting with hair colour. But there's no denying that after a while, the damage starts to effect the quality of our hair, making it more prone to dryness, dullness and split ends. Which is why Olaplex has quickly become the hair treatment hero salons and millions of beauty fans can't live without. The breakthrough technology repairs severely damaged hair, which is great news for those of us who bleach or dye our locks regularly.
Kim Kardashian is a self-confessed fan, who says, "When your hair is really damaged, if you sleep in that, it really works. I notice a huge difference."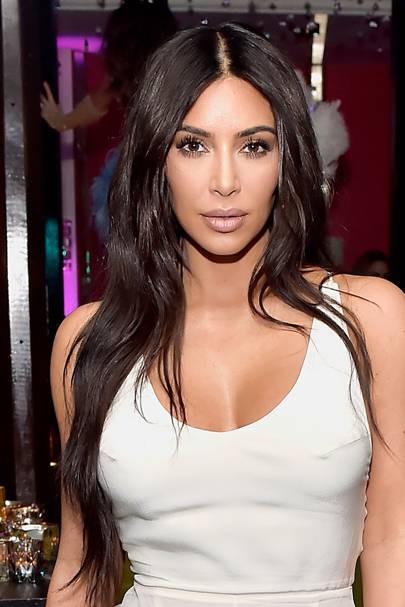 But it's not just people who constantly colour their hair who can enjoy the nourishing benefits. On the contrary, Olaplex delivers a glossy, strengthening treatment to all hair types and textures, coloured or not.
Originally a three-step system, with two in-salon and one at-home treatment, the hero brand has recently added a treatment shampoo and conditioner to their game-changing range, providing a comprehensive at-home regime so you can carry on the care in between salon visits.
Formulated with Olaplex's patented bond-building chemistry to strengthen hair, alongside other ingredients to hydrate, boost shine and reduce frizz, both are free from sulphates, parabens, gluten and are vegan-friendly.
Want to know more on the five steps and how it really transforms damaged locks? Here's the lowdown and our beauty editor review…
What is Olaplex?
Let's just get something straight: Olaplex isn't just another hair conditioning treatment. In fact, it doesn't use the word *conditioning* – often just a buzzword for one-off high-shine and smoothness – anywhere in its advertising.
It's a system that permanently rebuilds the damaged disulphide bonds in your hair that are broken during the chemical process. If you've over-bleached or had your hair highlighted for years, Olaplex allows you to rebuild the strength, structure and integrity of your hair; a 'reset' for your locks, if you will.
The system has allowed colourists to do work that they'd only ever dreamed of before. Black to white blonde in one session? No problem.
Five stages of Olaplex
Olaplex is a five-part treatment, the first two steps have to happen in a salon, with three maintenance steps at home.
Olaplex Number 1: Bond Multiplier is for professional in-salon use – and can be put on the hair as a standalone treatment, or if you're getting your colour done, it is mixed in with the bleach and put straight onto your hair in foils.
Olaplex Number 2: Bond Perfector is then put on the hair once the bleach is rinsed out, usually at the back wash. This is left on for a good 20 minutes to really get the most out of its chemical mending.
Olaplex Number 3: Hair Perfector is where you take things into your own hands. This take-home treatment is recommended for use once a week and is best applied before your shampoo and conditioner. Apply 1-3 teaspoons to dampened hair and comb through evenly. Leave on for 10-30 minutes or do as Kimmy K does and leave overnight.
Olaplex Number 4: Bond Maintenance Shampoo can replace your regular shampoo for a hydrating, strengthening top-up at every wash.
Olaplex Number 5: The Bond Maintenance Conditioner is the final step in the treatment to hydrate and smooth hair and is recommended to be left on for three minutes before rinsing.