Show-stopping moments from Versace, Prada, Fendi, and expert tricks to make them work IRL.
MOSCHINO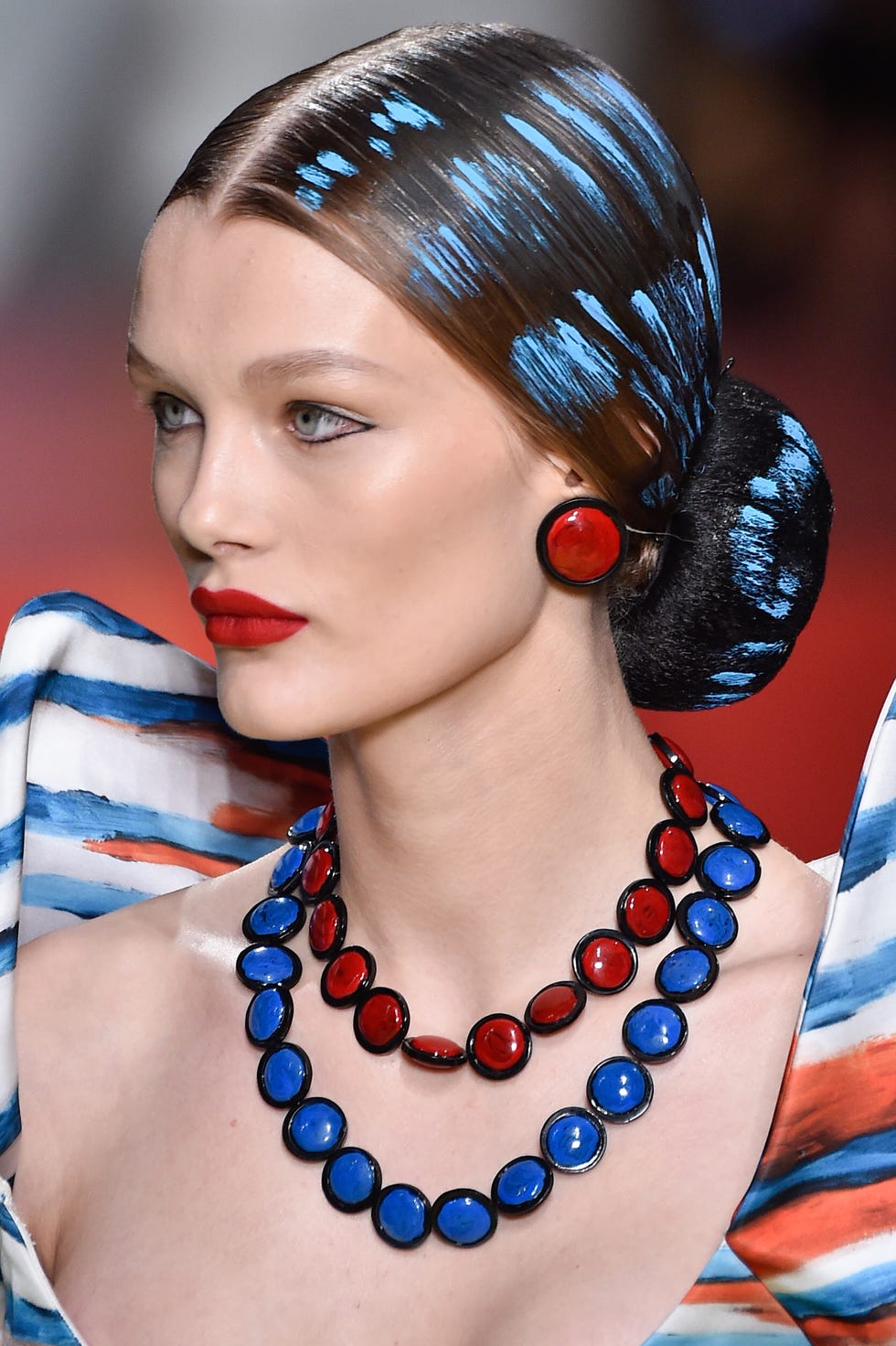 The Vibe: Picasso Baby
Get the Look: "Thank goodness Pablo Picasso had a daughter," said makeup artist Kabuki, nodding to Parisian socialite (and future Tiffany & Co. designer) Paloma Picasso. "That really helped me out!" To accent Jeremy Scott's brilliant cubist collection, models wore bright red lips and graphic black eyeliner, with paint (really) in their slicked-back hair.
FENDI
The Vibe: Morning-After Party Princess
Get the Look: "It's not a good night unless you don't get home until the morning," said Peter Philips backstage at Fendi, which might be why his look—silver glitter under the eyes instead of concealer, black eyeliner all along the waterline—was a second-day raver's delight. Sam McKnight twisted the models' hair up in messy space buns and ponytails, reminiscent of both the Spice Girls and Gigi, the haphazardly stylish Booksmart character who's conquered Pinterest boards worldwide.
GIORGIO ARMANI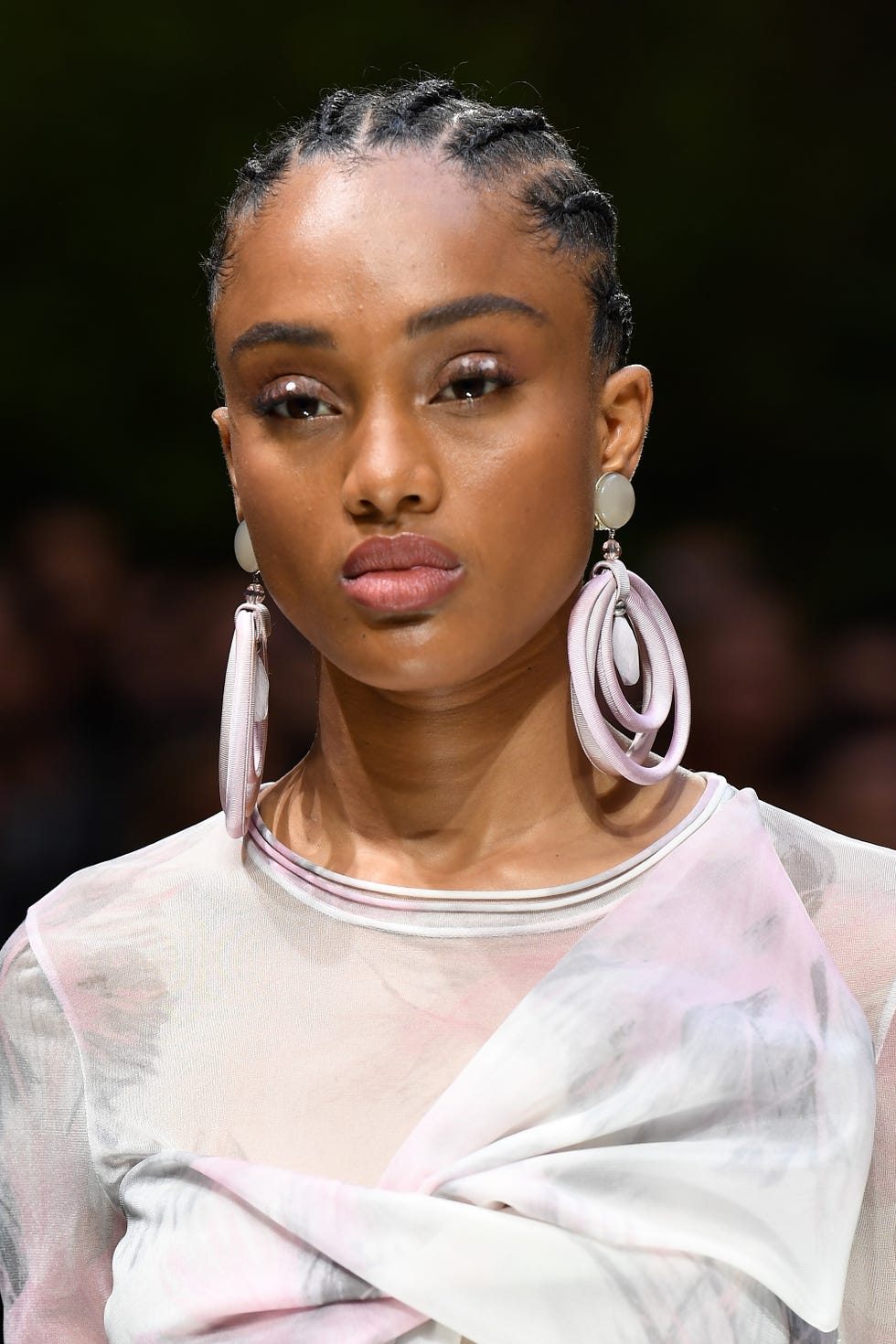 The Vibe: Minimalist Mermaid
Get the Look: Giorgio Armani Beauty's Innovation Director Johan Lundin and his team took iridescent sequins—the same used on Armani's incredible eveningwear—and applied them with lash glue to the models' lids. Keeping with the moonlight swim glimmer, they mixed moisturizer and foundation for a glowy, tinted effect, with one Color Sketcher pencil used on cheeks and lips.
MAX MARA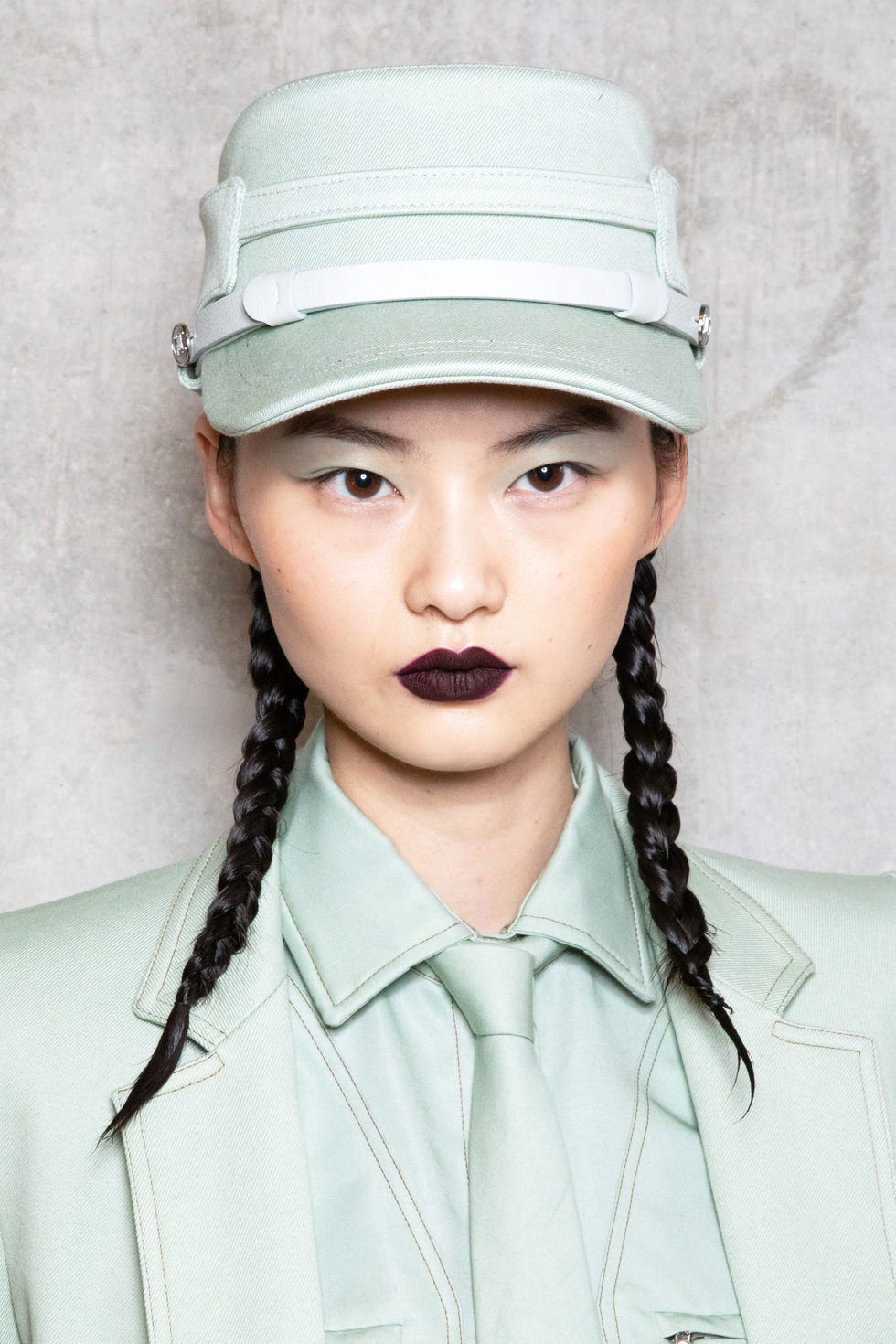 The Vibe: Killing Eve's Villanelle
Get the Look: For those who like their beauty a little twisted, makeup artist Tom Pecheux has the solution: matte skin with a deep black or burgundy matte lip, with just a tiny bit of angular lip liner at the bow line for maximum I'm gonna get you vibes. Sam McKnight whipped the hair into tight braids or shaggy, shiny lobs and many looks were capped off with… well, with pastel caps, because glam TV crime deserves a killer accessory, right?
GUCCI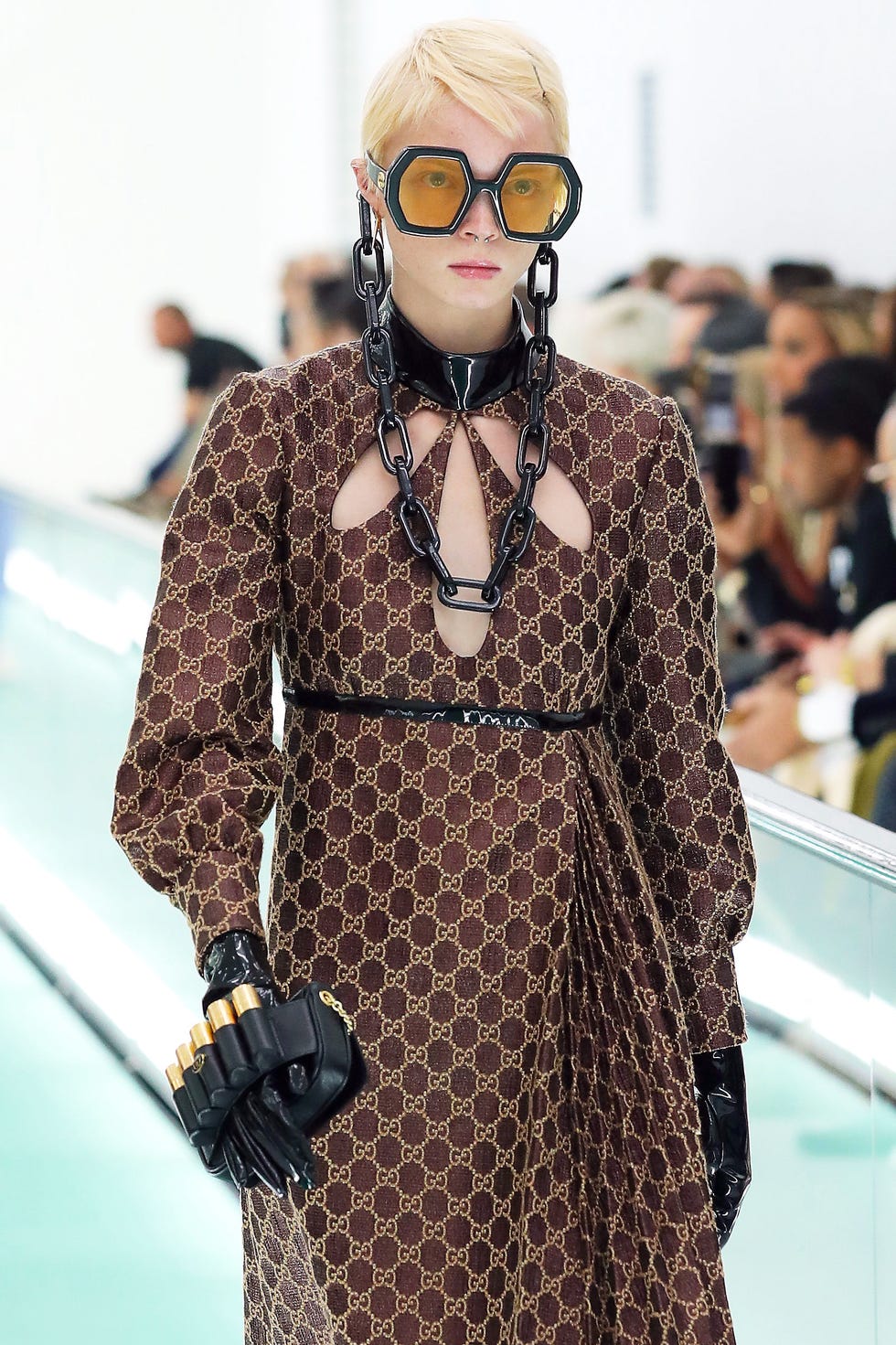 The Vibe: Self-Saving Style
Get the Look: To celebrate Alessandro Michele's vision of harmony through style, Thomas de Kluyver created "a narrative of self-expression" on Gucci's 109 models. Some wore false eyelashes over their eyebrows; all had a unisex slick of Gucci Beauty clear balm on their lips. But the handbags were also secret beauty vehicles, with compartments built into their handles for bullets—or, as we prefer, for lipsticks. Make Gucci, not war!!!
PRADA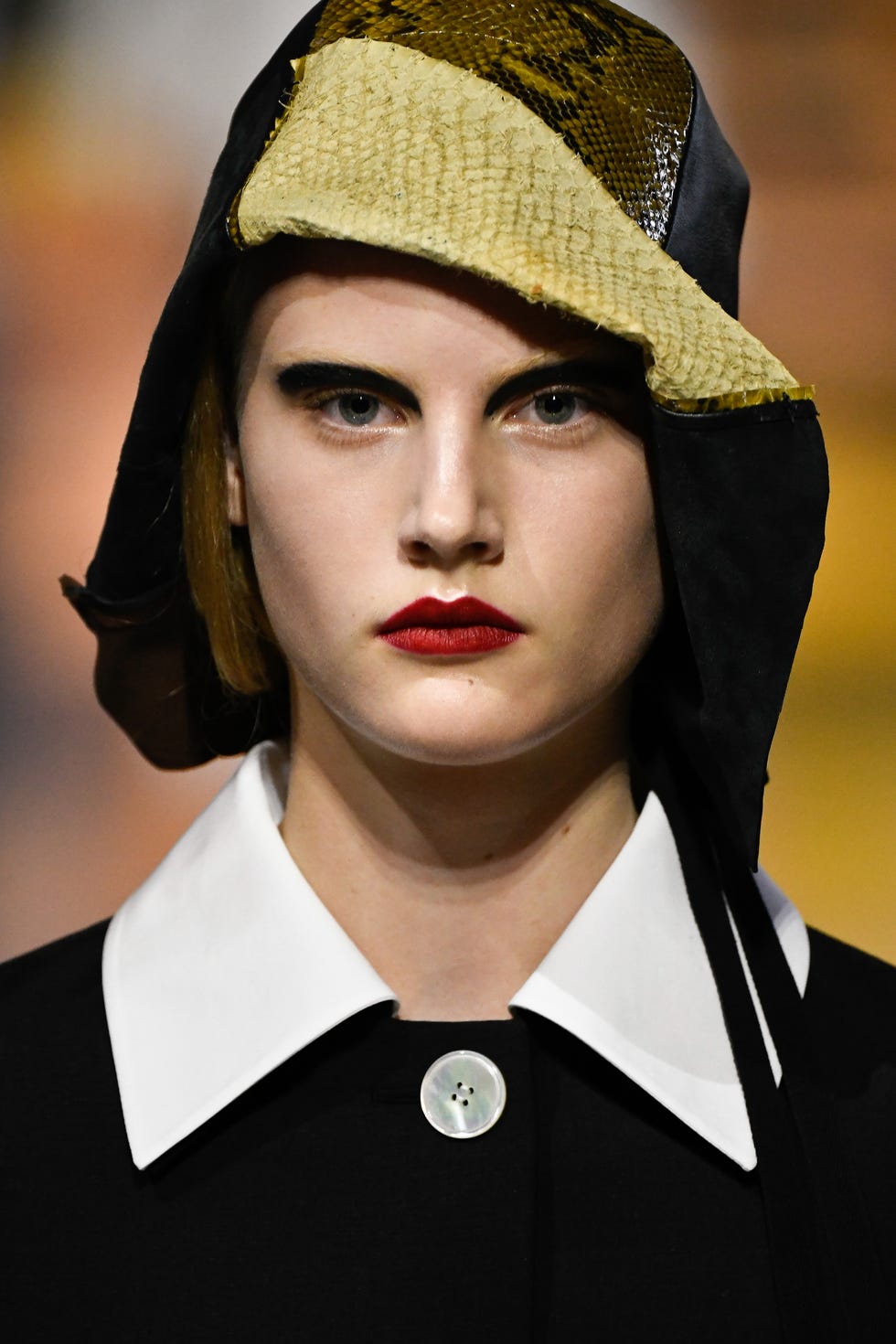 The Vibe: Flapper of the Future
Get the Look: "There's a nod to the '20s," explained Guido Palau backstage, "However, there's still a bit of strangeness to the look with a contemporary spin." That means slicks of shiny hair and intense scarlet lips, along with a few select girls donning bleached brows and an intense black arch just above the brow line. In "Mother" Pat McGrath's own words, "this look is for someone with no fear."
VERSACE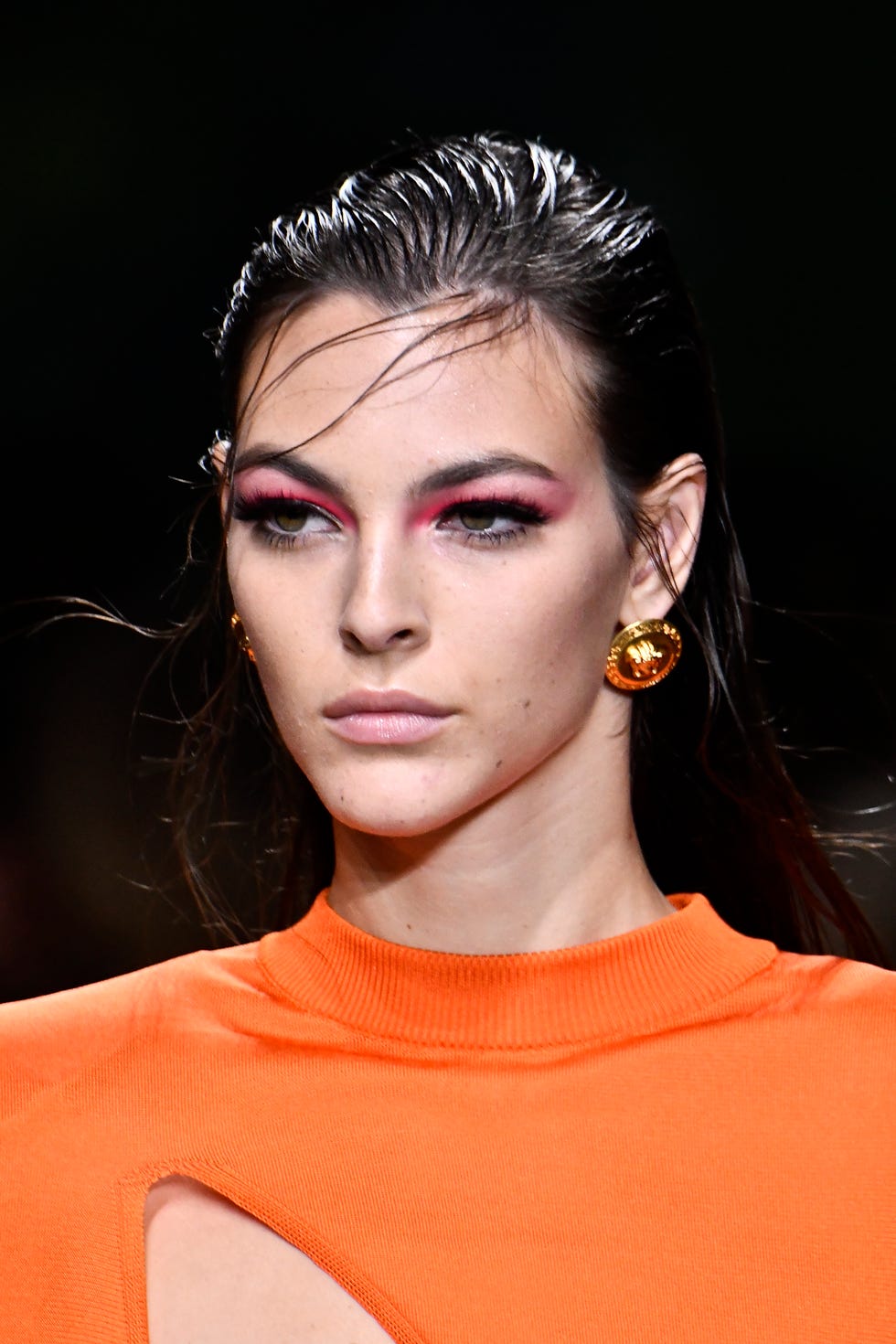 The Vibe: '90s Bombshell
Get the Look: "Very quick. Very sexy. Very Donatella." That's the mandate from Guido Palau, who styled mega-models like Kendall and Kaia with slick, piece-y hair for a classic wet look. Pat McGrath continued the vintage music video riff with dewy skin and a wash of neon green or orange shadow across the eyes.